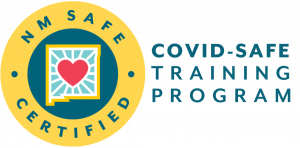 On July 1, 2021, the State of New Mexico removed the remaining pandemic occupancy restrictions on commercial and day-to-day activities, including the color-coded county-by-county system. All businesses across the state were once again allowed to operate at 100 percent of maximum capacity. In addition, all limitations on mass gatherings are gone; businesses, large events and organizations may operate at 100 percent of maximum capacity, whether indoor or outdoor.
The State's updated COVID-Safe Practices now follows CDC guidance and is streamlined for businesses in general; previously, state COVID-Safe Practices had outlined industry-specific requirements.
Since NM Safe Certified mirrored the required COVID-Safe Practices outlined in the State's All Together New Mexico Manual and the Public Health Order, the program was retired effective July 1, 2021.
The New Mexico Society of Association Executives was proud to administer NM Safe Certified, which trained New Mexico businesses in COVID-Safe Practices to help ensure all of us -- customers, employees, and families -- remain safe as New Mexico reopened for business and recreation.
Over 10,000 businesses enrolled in the program, and over 9,000 businesses representing over 95 communities across the state became NM Safe Certified.
Check out the videos below that talk about the impact and value NM Safe Certified provided local businesses.