About Science is US
Science is US is a foundation-supported initiative that brings together a diverse group of science, engineering, industry, higher education and labor organizations to galvanize a broad, bipartisan political base of support for science and technology. As champions for science, we tell the stories of STEM professionals and highlight the many different educational and career paths available for folks with interest in science, engineering, medicine, math and technology.
Headquartered at the American Association for the Advancement of Science (AAAS), the world's largest multidisciplinary scientific society and publisher of the Science family of journals, our work is guided by a Steering Committee that includes AAAS and seven other science and engineering organizations — American Chemical Society, American Geophysical Union, American Physical Society, Consortium of Social Science Associations, Council on Competitiveness, Federation of American Societies for Experimental Biology (FASEB) and Institute of Electrical and Electronics Engineers–USA.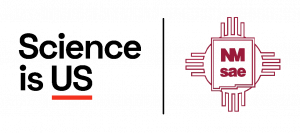 Overview of Partnership with NMSAE
Science is US New Mexico is a new partnership that will bring the best of science and engineering to the Land of Enchantment, benefiting government bodies, education systems and private sector enterprises. This collaboration will also offer a broad network of science advisors, nationwide connections to experts in science, engineering and medical fields, as well as tools and training in the use of evidence in policy decision-making.
With over $49 billion in direct contributions to the state's economy, STEM is responsible for 42% of New Mexico's GDP. That makes New Mexico currently the 14th most STEM intensive state economy in the United States.
Additionally, more than half of New Mexico STEM professionals do not have a bachelor's degree. These People of Science are livestock breeders, licensed practical nurses, physicists, hydrologists, foresters, electricians and accountants, among others. Additional data can be found in New Mexico's State Spotlight from our People of Science report.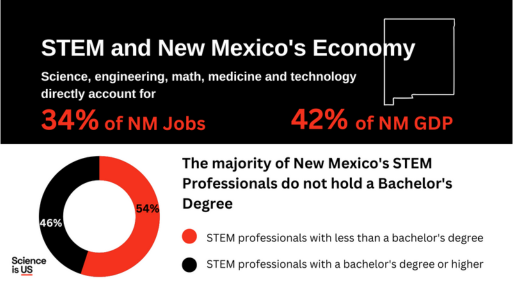 Ways to Engage with US
Want to help expand Science is US New Mexico? Here are some ways to get involved:
Nominate someone for our People of Science social media campaign that aims to highlight the breadth and depth of U.S. STEM professionals – and to tell the stories that folks may not necessarily immediately connect with STEM.
Co-author an opinion piece or letter to an editor with us about the importance of science and engineering in advancing policy.
Host an event in your community with US.
Connect with an expert – we have access to a network of scientists and engineers across different disciplines.
Contact US via email at team@scienceisus.org.